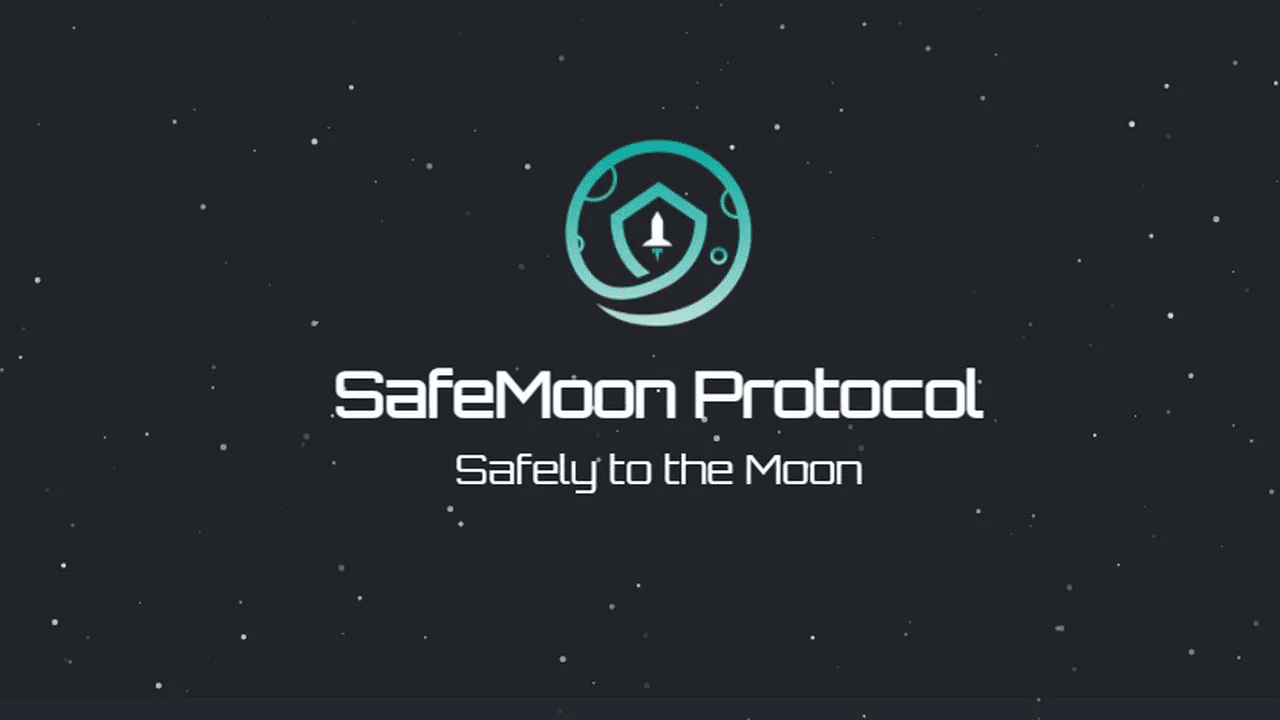 SafeMoon (V2) price is more than 90% down from its May 2021 all-time high of $0.01123. The price broke below the key support of $0.001 on Monday 21st February. This lower low has given the bulls full control as the price hovers into unchartered territory. Safemoon price needs to reclaim the support within a few days or things could get really ugly for the memecoin. Despite the fact that the project started as a meme coin, the team has started to develop some products. The roadmap suggests that the Team intends to launch many products in the future.
Thanks to Elon Musk's unwavering support of Dogecoin, 2021 saw a vast mania of meme coins. Many more celebrities jumped on the bandwagon, and the meme coin hype went to the stratosphere. This atmosphere led to the launch of hundreds if not thousands of meme coins in months. Popular meme coins like Shiba Inu, Floki Inu, Kishu Inu, and Safemars were also launched during this hype.
What is Safemoon?
One major project which took the meme coin hype to a whole new level was Safemoon. After getting launched in April 2021, Safemoon immediately gained attention from major celebrities. This hype paved the way for a massive influx of new crypto investors to the project. The FOMO kicked in, and the Safemoon price went bonkers. The price reached its peak in May 2021, after increasing 320% in just a month. At the peak of the memecoin bull run, Safemoon market cap went to as high as $6.2 billion.
The most bizarre thing about this price hike was that Safemoon was just a meme coin with very little or no fundamentals behind it. The investors were also well aware of the coin's lack of development but kept buying in FOMO. However, some Tokenomics still made the Safemoon Protocol different from other meme coins. These were,
Static Rewards (Reflections)
LP Acquisition
Token Burn Mechanism
Safemoon Founders & Roadmap
John Karony and his Team launched Safemoon in April 2021. Notable blockchain developer Thomas Smith aka 'Papa', also acted as Chief Blockchain Officer (CBO) of the project until he parted ways on good terms later in November 2021. When many Twitteratis termed Thomas's exit as the end of Safemoon, he came up with the following tweet.
SafeMoon initially launched as a meme coin lacking any fundamental technology. Nevertheless, due to its immense success and loyal community, the team decided to take it in another direction by developing different community-centred products and services. These also include the already launched Safemoon Wallet and Safemoon V2.
As per official Safemoon news from their website, a hardware wallet and an exchange are also in development and could be rolled out later this year. Despite all the positive development news, Safemoon V2 price has still broken below $0.001 level making lower lows. This downward price action has given bears full control to push the price even lower. The price is
Safemoon Price Prediction 2022
SafeMoon (old version) reached its all-time high of $0.00001123 at the peak of meme coin mania in May 2021. On December 11, 2021, Safemoon launched its Version 2 (V2) to consolidate the circulating supply by 1000:1. At the time of writing, the Safemoon V2 token is trading at $0.00114.
Since Safemoon V2 is just launched recently, there is not enough price data to predict its price. However, a better Safemoon price prediction 2022 could be generated by taking price data from SafeMoon Old Version and merging it with the price data from the new version. By multiplying Safemoon Old Version's price by 1000, we can see that Safemoon is currently trading at $0.00114, nearly 90% below its May 2021 highs of $0.01123. The ongoing downtrend could last for at least a few months.
However, suppose we see another meme coin mania and Safemoon Team also succeeds in rolling out its much-anticipated exchange in 2022. In that case, Safemoon (SFM) price could skyrocket, and new ATH around the $0.01768 level seems feasible. This level comes from the fib extension level of 1.618, which formed after connecting the May 2021 high of $0.01123 to the Sep 2021 low of $0.001.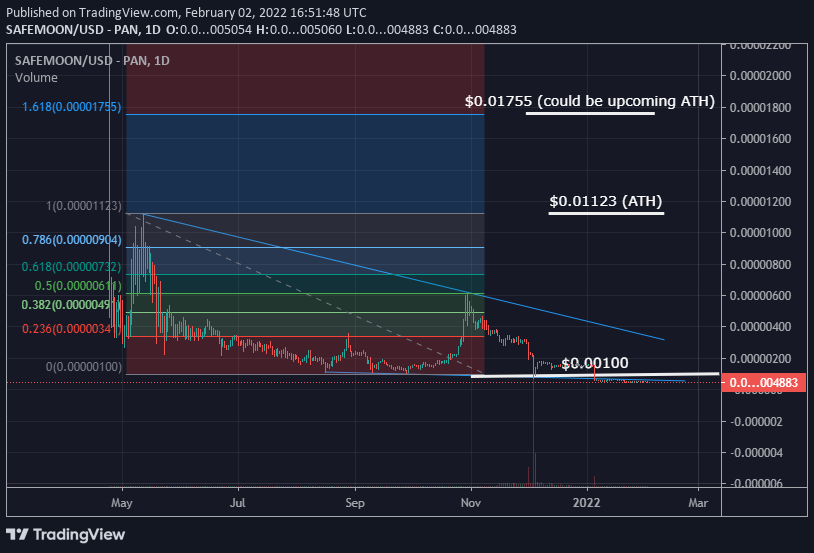 Safemoon Price Prediction 2025
As per the industry famous stock to flow model by Plan B, Bitcoin price could go as high as $335,000 by 2025. Since Bitcoin always acts as the liquidity floor or the whole crypto market,  a corresponding increase in the valuation of meme coins like Safemoon can never be ignored.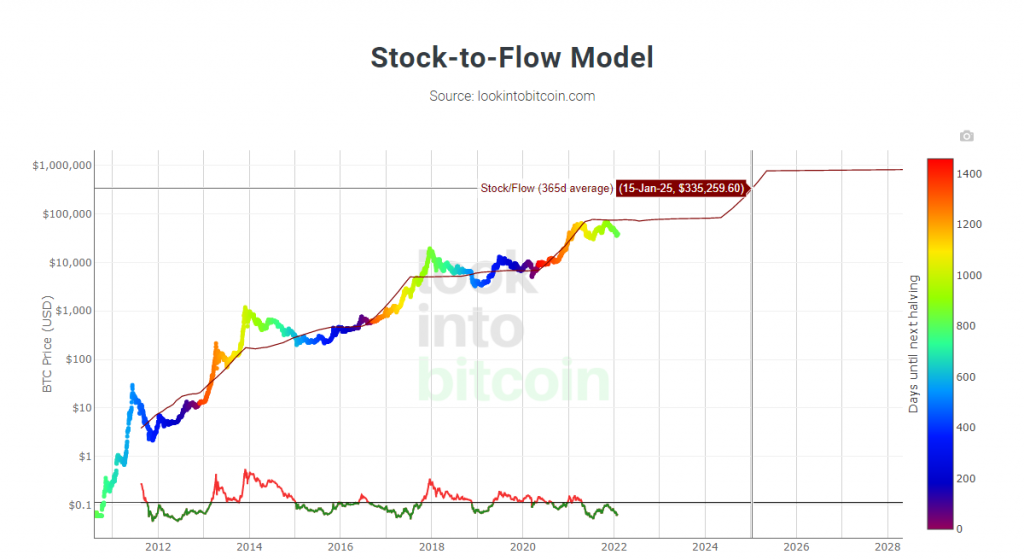 Keeping in view the price target of $330,000 for Bitcoin, the Safemoon Price Prediction 2025 comes out to be $0.053. However, please take this price target with a pinch of salt as it depends on many factors.
The last bear market of 2018-2019 saw many coins with little or no fundamentals going to a fraction of pennies. Many such coins didn't even recover in the next bull market. Another factor is that there would be several new meme coins in the market by 2025. They would definitely give projects like Safemoon a run for its money.
Safemoon Price Prediction 2030
Crypto is a very dynamic and volatile asset class. This makes it very difficult to predict the price action of any cryptocurrency on a broader timeline. The task becomes almost impossible when it's the case for smaller coins like Safemoon.  To find out Safemoon price prediction 2030, we would have to consider the following factors.
In May 2021, meme coin mania was at its peak, and it saw Dogecoin's market cap inflating to a whopping $88.2 billion. This was when Safemoon's market cap breached $6 billion. If Safemoon flips Dogecoin, then a dubious target of $0.14 could also fall in the realm of reality. However, for this to happen, Safemoon would need a Dogefather like Elon Musk and an insane amount of hype which is quite unlikely. SafeMoon has a huge circulating supply of more than 566 billion. This also makes it almost impossible for the coin to reach 1$ in the foreseeable future. However, if Safemoon gets massive adoption, its in-built burn function can curtail a significant chunk of its supply.
Should I Buy Safemoon?
Crypto is one of the riskiest asset classes, and dabbling with coins like Safemoon is like playing with fire. While Safemoon can still generate gains of several hundred percent, at the same time, there's a big chance for it to keep going down forever. Nevertheless, as Safemoon is nearly 85% down from its ATH, some may still find it a good buying opportunity.
If you're wondering how to buy Safemoon, the best place to buy it is Pancakeswap. The top memecoin is still not available on top centralized exchanges as it has an in-built burning feature.