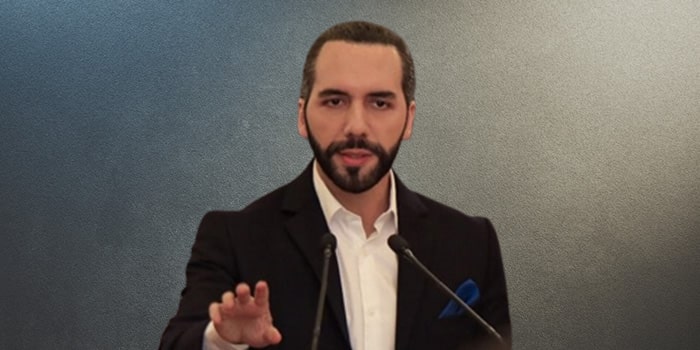 El Salvador's 'millennial cool' dictator is looking to pass new laws to make his country a safe haven for 'crypto' companies, including the folks behind the controversial Tether stablecoin.
El Salvador is scrambling for solutions ahead of a January 24 deadline to pay €667 million it doesn't have to cover amortization of a Eurobond. JPMorgan analysts recently issued a warning saying the country's Eurobonds are now in "distressed territory" and its debt-to-GDP ratio will likely hit 96% in 2026, up from 87% currently. Just financing its debt is set to top 15% of El Salvador's GDP next year.
With President Nayib Bukele having gone out of his way to thumb his nose at the United States' current leadership, El Salvador is having to look elsewhere for a white knight to ride to its fiscal rescue. Enter China, who El Salvador's Vice President Felix Ulloa recently said had "offered to buy all our debt, but we need to tread with caution."
Caution appears to have been thrown to the wind, because just three days after Ulloa's statement, Bukele met with Chinese Ambassador Ou Jianhong to discuss a potential free trade deal. China has a history of striking deals with developing nations that carry far fewer restrictions than deals offered by western countries, a practice that has been criticized for locking recipients into a so-called debt trap that can result in China gaining control of critical local infrastructure.
Bukele had been trying to negotiate a $1.3 billion bailout from the International Monetary Fund (IMF) but rejected the IMF's call to reverse his controversial 2021 decision to declare BTC legal tender in El Salvador. Ratings agencies subsequently lowered the country's credit score, further increasing the cost of borrowing.
That Bukele would find more common cause with Beijing than Washington isn't that great a stretch, given Bukele's fondness for trampling democratic norms. But it is a mix of strange bedfellows, considering Bukele's highly public embrace of BTC and China's determination to severely punish anyone trading BTC on its shores.
BTC a non-entity for ordinary Salvadorans
Bukele became an overnight BTC celebrity last year following his appearance at a Miami conference where he revealed that El Salvador would be the first country to declare BTC legal tender. Since then, Bukele has further endeared himself to BTC maximalists by claiming to have purchased nearly 2,400 BTC (with government funds), although the only concrete evidence of this is Bukele's tweets.
Taking Bukele at his word as to the dates of various BTC buys, his purchases were made at an average price of over US$43,000, which is nearly three times the token's current value. This means that the cash-strapped country is over $63 million in the red thanks to Bukele's thirst for the approval of foreign BTC maxis.
Last week, Bukele doubled down on his spendthrift ways, tweeting (in English, not Spanish) that his administration would purchase one additional BTC token per day starting November 17. Despite having removed the 'laser eyes' from his Twitter avatar way back in May, Bukele appears intent on regaining the ground he may have lost in the eyes of maxis when he stopped buying BTC in July.
We are buying one #Bitcoin every day starting tomorrow.

— Nayib Bukele (@nayibbukele) November 17, 2022
The international tourists who flock to El Salvador's infamous 'El Zonte' (aka 'Bitcoin Beach') appear to be the only ones who are sustaining Bukele's fantasy of a BTC-based economy. El Salvador claims that tourism has risen 30% since the Bitcoin Law took effect, although considering that pandemic-based international travel restrictions have been eased since the law was passed, it would be astonishing if tourism hadn't risen.
El Instituto de Opinion Publica has conducted surveys that show over 77% of Salvadorans believe the Bitcoin Law has done nothing to improve their personal finances. The same group found that the Bitcoin Law is the "most unpopular and most criticized policy" of Bukele's government and nearly two-thirds think the government shouldn't be spending public funds on BTC-related endeavors.
In addition, less than 14% of Salvadoran micro-, small- and medium-sized enterprises (MSMEs) have ever made a BTC-based sale. Many of the businesses that do claim to welcome BTC payments in reality often decline to do so, citing technical issues with the much-maligned 'Chivo' wallet. All told, nearly 92% of MSMEs described the impact of BTC on their businesses as "indifferent."
The other supposed selling point for adopting BTC as legal tender was the ability of Salvadorans living abroad to send money home at cheaper rates than traditional channels. But uptake has been nonexistent, never topping 2% of the total and continuing to drop as the crypto winter's steady drumbeat of negative headlines takes its toll on ex-pats' confidence.
Tether's CFO breaks bread, cashes in
Ethereum founder Vitalik Buterin recently took the BTC community to task for their shameless embrace of Bukele's regime, despite it being "not a very democratic government" that was proving "no good at respecting other people's freedoms." Buterin went on to slam BTC maxis for their tendency to "just automatically love everyone rich and powerful who supports" their favorite token.
As if on cue, BTC bros descended on El Salvador last week for 'Adopting Bitcoin,' the so-called 'Lightning Summit' put on by the integrity-challenged digital asset exchange Bitfinex. The summit was intended to try to convince skeptical Salvadorans of the wonders that await them by injecting their hard-earned fiat cash into a proprietary transaction layer intended to mask the BTC blockchain's pitiful seven-per-second transaction limit.
Among the Bitfinex representatives on hand to promote the dubious merits of the Lightning 'layer 2' solution was the site's CTO Paolo Ardoino, who also serves as CTO for the Tether stablecoin (both companies are under the iFinex umbrella). But also making an appearance was none other than iFinex CFO/co-founder Giancarlo Devasini, who posed for a photo with Bukele at a dinner hosted by El Presidenté.
1/
We're humbled to have been hosted last night by the president @nayibbukele and his family. We truly share the excitement, the passion and the vision for El Salvador renaissance. ?? pic.twitter.com/1P6pioVvWn

— Paolo Ardoino ? (@paoloardoino) November 17, 2022
Like J.L. van der Velde, iFinex's other publicity-shy co-founder, Devasini sightings are like spotting Bigfoot, so there must have been something important going down to smoke him out of his hole. One theory is that Devasini wanted to get one final look at the slate of new laws governing digital assets the Salvadoran government has finally formalized. Bukele originally announced (again, in English, not Spanish) the laws back in January but it wasn't until last week that the Minister of Economics sent them to the legislative assembly.
The new laws aim to open up El Salvador's BTC-friendly market to other digital assets, the suitability of which will be judged by a new National Commission of Digital Assets. Providers and issuers of digital assets will pay a certain amount to register these assets and offer them to the public. A Bitcoin Funds Management Agency will be established to decide how the fees raised will be implemented into public works projects and such.
The digital assets that will now be tolerated explicitly include stablecoins, which would obviously be of great interest to the Tether crew. But the new rules may also have strong appeal due to Bukele's apparent interest in creating a safe haven for digital asset firms that prefer to avoid more strictly regulated jurisdictions.
✅ Se incluye la definición de las monedas estables o stablecoins y de tokens.

✅Se regulan las ofertas públicas de activos digitales

✅ Exención de impuestos en algunos casos.

— Criptolawyer.eth??⚽️ (@criptolawyer) November 22, 2022
Tether's largest customer—FTX/Alameda Research—recently went belly-up with billions' worth of unfunded liabilities. FTX/Alameda were based in the Bahamas and did their banking with local outfit Deltec, which also happens to be a Tether banking partner. With the FTX/Alameda bubble having burst, regulatory authorities may now start sniffing around the adamantly unaudited Tether and they might not like what they find. The search could be on for a new place to call home.
Bukele's dictator vibe is only partially a joke, and given that he previously brought armed soldiers into parliament to ensure legislators understood how he wanted them to vote, passage of these new digital asset laws is a foregone conclusion. Music to Tether's ears.
The iFinex crowd previously claimed that El Salvador's inane plans for a Bitcoin City that would be funded by $500 million worth of 'Volcano Bonds' has been waiting for these new regulatory structures to be in place before the Bonds can be properly flogged. The reality is that there was zero investor interest at the time these plans were announced and the past six months of sketchy 'crypto' company implosions hasn't improved that sentiment.
But hey, maybe Bukele won't have to kowtow to Beijing after all if he can only find someone else with extremely deep pockets to pay off his Eurobond tab. You know, someone with a reason to be thankful for all the Lord's work the world's coolest dictator is doing.
Follow CoinGeek's Crypto Crime Cartel series, which delves into the stream of groups—a from BitMEX to Binance, Bitcoin.com, Blockstream, ShapeShift, Coinbase, Ripple,
Ethereum, FTX and Tether—who have co-opted the digital asset revolution and turned the industry into a minefield for naïve (and even experienced) players in the market.
New to Bitcoin? Check out CoinGeek's Bitcoin for Beginners section, the ultimate resource guide to learn more about Bitcoin—as originally envisioned by Satoshi Nakamoto—and blockchain.